Dear Friends:
I've recently embarked on a fund-raising mission on behalf of the Weston A. Price Foundation. WHY? Because I had been noticing the many requests posted by Sally Fallon Morrell; asking for donations to fund the very expensive but much needed laboratory.
This project when completed will allow the Weston A. Price Foundation to do extensive research on many foods, and other health issues and would therefore expand our knowledge to much higher level. Already we are privileged to get enormous amounts of FREE information on the Weston A Price website, and as well many of us, me for one have completely made 180 in our approach to our diets and even our lives.
If you are considering replacing your old grain mill or purchasing one at this time
THIS OPPORTUNITY NOT ONLY ALLOWS YOU TO HAVE THE WORLD'S # 1 RATED GRAIN MILL, CONTRIBUTE $25.00 TO THE WESTON A. PRICE FOUNDATIN IN YOUR NAME, AND ALSO RECEIVE A FREE GIFT!
If purchasing a grain mill at this time is not possible, then PLEASE help me by forwarding this information, the ad and this offer to others who might just be ready to buy or replace their grain mill with the "World's #1 Rated Grain Mill".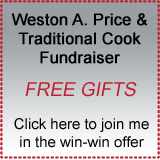 Maria Atwood Chapter
Leader-Colorado Springs South